Grapevine Lodge completes an upgrade to their lodge room.
November 14, 2023 – (Grapevine) – A newness to the lodge room was unveiled at the regular stated meeting. This month the lodge celebrates its founders with a meal of beans and cornbread as the founders had from 100 years ago. The minutes of the meeting from 100 years prior is also read to those who attended. The new carpet and tile are certainly a nice upgrade to the look of the lodge. The wood floors beneath and left uncovered around the edges of the lodge room are original to the historical building in Downtown Grapevine.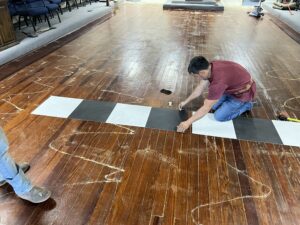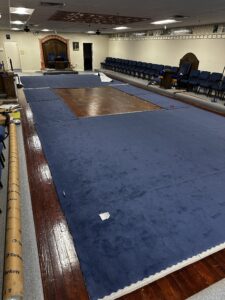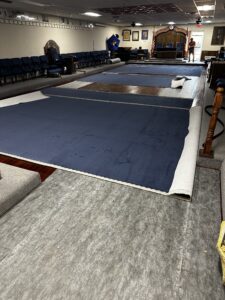 Grapevine Lodge celebrates a 60 year service award.
October 5, 2023 – (Grapevine) – Grapevine Lodge #288 proudly awarded Delmar Dale Richmond for his 60 years of service to the fraternity. His award was pinned to his lapel by his son, Todd Richmond, who is also a member of the lodge and currently serves as the Tiler. In addition to this honor, the Grand Lodge of Texas represented by District Deputy Grand Master Jon Wych, awarded Grapevine mayor William D. Tate with his 50 year service pin. A 40 year service award was given to Robert L. Stuard and was pinned by his family as part of the ceremony. Worshipful Master Wendell Mitchell presided over the event and shared the awarding of the certificates with DDGM Jon Wych along with many dignitaries in attendance including Right Worshipful Brad Billings and several past masters of the lodge. Others who were awarded for their service but were not in attendance include 60 year – Billy A Powers; 50 year – Michael Franklin Hall; 40 year – David Everett Boise and Norman Jeffery Hutchinson.